Home
Visuals
Articles
Sounds
About
Contacts
CIB x CCULDESACC
When AI Meets Gastronomy in a Feast for the Senses
The CCULDESACC art collective and the Culinary Institute Barcelona (CIB) have teamed up to venture into uncharted culinary territory. Under the guidance of culinary talent Maxim Polzikov, this unique partnership has redefined the boundaries of a culinary challenge.
Imagine a collection of imaginative dishes that bridge the gap between imagination and taste. Enter the realm of AI-generated visuals, where vibrant and surreal images serve as inspiration. CIB's students, organized into collaborative teams, embarked on the mission to bring these digital concepts to life through culinary artistry.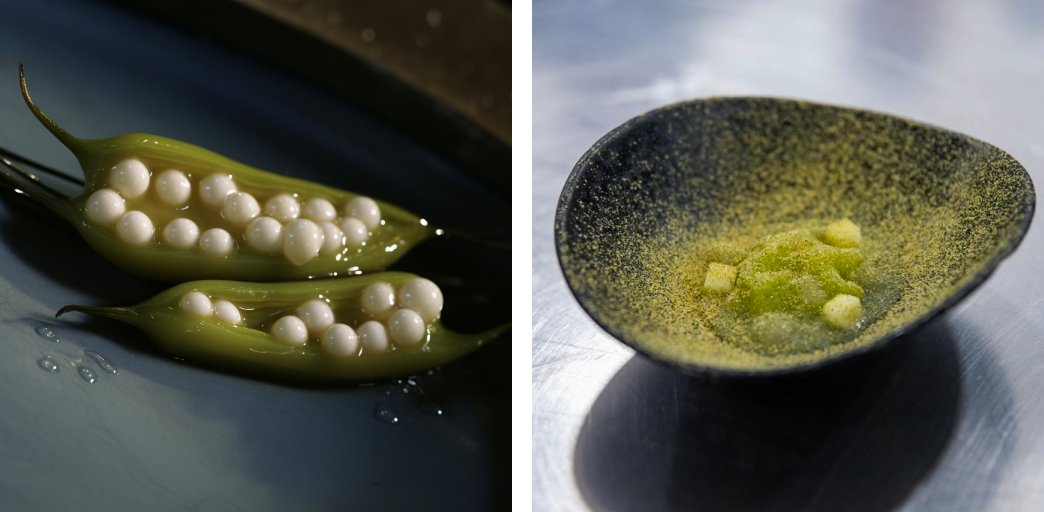 Left: Ai genereted image made by CCULDESACC
Right: Dish made by CIB students, click here to download the recipe
The result was a harmonious blend of flavors, merging sensory exploration with tangible creations. Amidst the scents of culinary innovation, students infused their dishes with personal flair and artistic touch, transforming ingredients into canvases of flavor.
The stage was set for a culinary contest like no other, showcasing ingenious ingredient combinations, innovative techniques, and a nod to the AI-generated inspiration. Each plate stood as a testament to precision, audacity, and imaginative brilliance.

As the judges took their places, a panel of culinary experts and professors critically examined these edible works of art. From the very first bite, it was evident that this was a sensory experience beyond the ordinary, a fusion of flavors and creativity that surpassed traditional dining.
In the end, one team stood out—an embodiment of culinary mastery and artistic innovation that resonated with the judging panel. Yet, the success extended beyond the competition. It was a celebration of creativity, the convergence of artificial intelligence and genuine passion, and the audacious nature of culinary exploration.

CCULDESACC and CIB have crafted a narrative of limitless creativity, breaking conventions and urging us to appreciate not only with our senses but with our imagination. This bold partnership signals the future of culinary art—a future where innovation knows no bounds, and every dish invites us to explore the vast horizons of taste and presentation.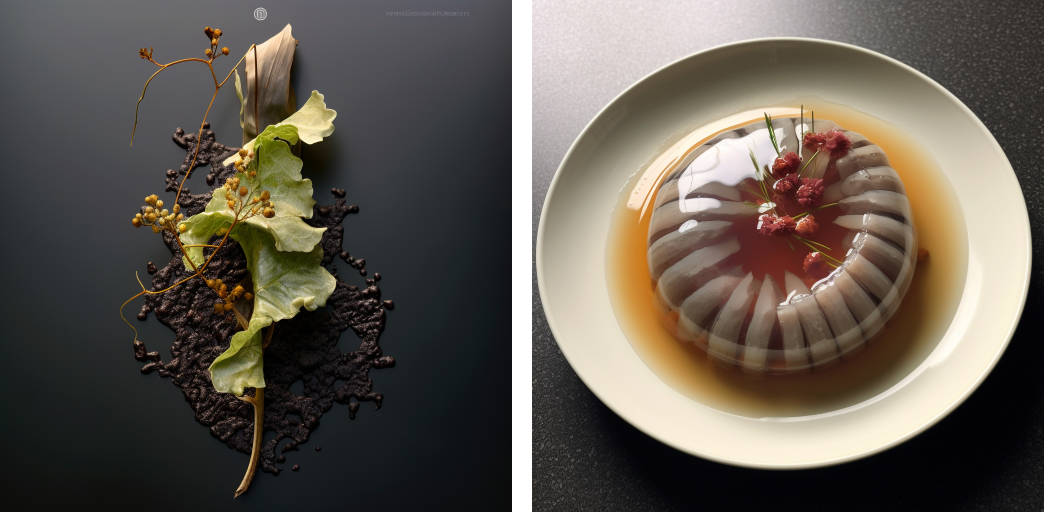 Left: Fine dining plating photo, michelin star plated dish, extra, shick, luxury, photo of black lime with wasabi and ananas pearls, sharp, bright, brutal, top view, studio
Right: Fine dining plating photo, michelin star plated dish, minimalistic brutal composition, photo of jellied yeel, brutal, top view, studio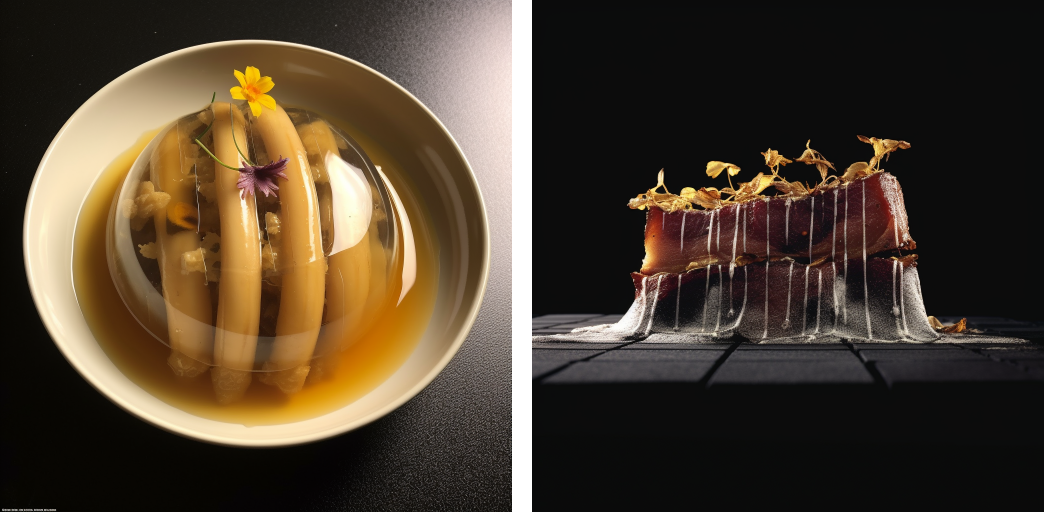 Left: Fine dining plating photo, michelin star plated dish, minimalistic brutal composition, photo of jellied yellow miso soup with daikon and cauliflower, brutal, top view, studio
Right: Fine dining plating photo, michelin star plated dish, minimalistic brutal composition, industrial food, photo of cubic cured jellied beef tongue, brutal, top view, studio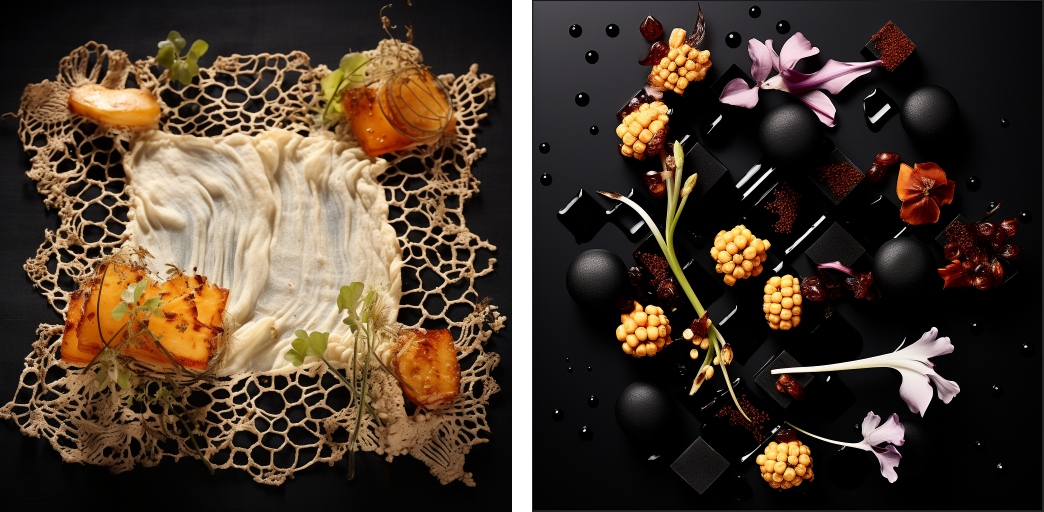 Left: Dining plating photo, michelin star plated dish, extra, chick, luxury, photo of almond foam, bacon and sesame oil bright, brutal, top view, studio
Right: FIne dining plating photo, michelin star plated dish, minimal, sharp, bright, brutal, photo of pink black seviche with corn and caramel tomato sprinkles, top view, studio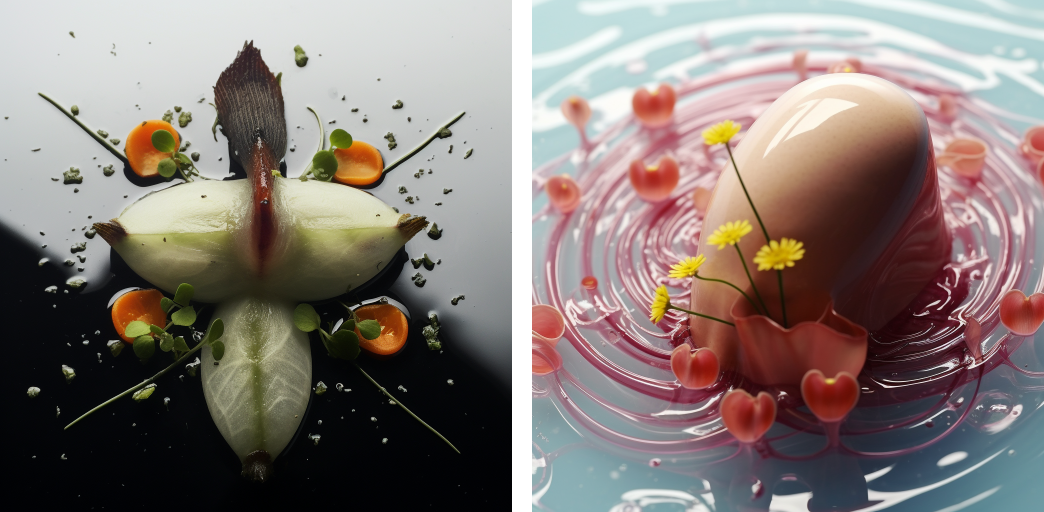 Left: Fine dining plating photo, michelin star plated dish, sharp, edgy, bold, photo of shreded onions,garlic, pepper, pickled cucumbers, zuccini, top view, studio, clean, pedant, sterile, cleancore,medical core
Right: Fine dining plating photo, michelin star plated dish, gentle, pink caramel flan with coconut and lichi, top view, studio, clean, pedant, sterile, cleancore, medical core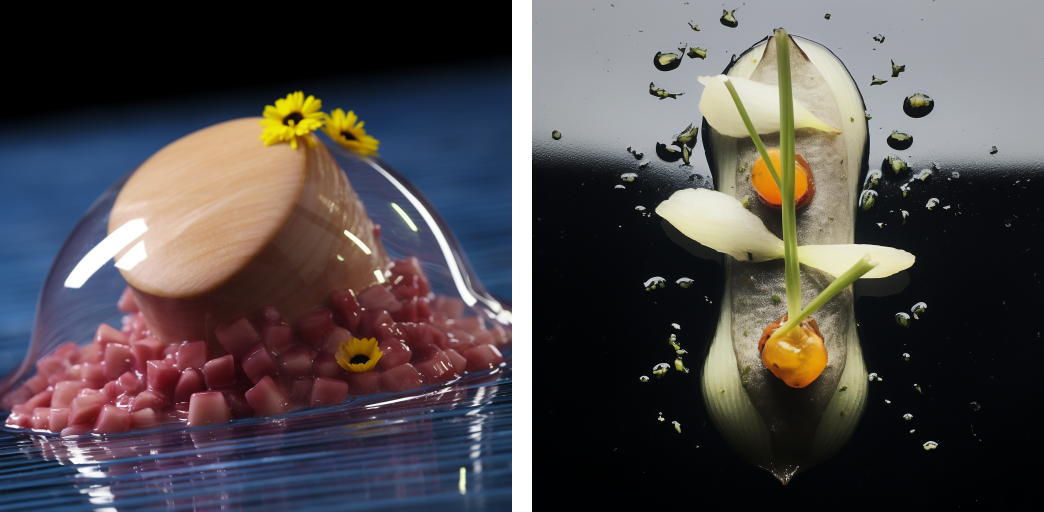 Left: Fine dining plating photo, michelin star plated dish, gentle, pink caramel flan with coconut and lichi, top view, studio, clean, pedant, sterile, cleancore, medical core
Right: Fine dining plating photo, michelin star plated dish, sharp, edgy, bold, photo of shreded onions,garlic, pepper, pickled cucumbers, zuccini, top view, studio, clean, pedant, sterile, cleancore,medical core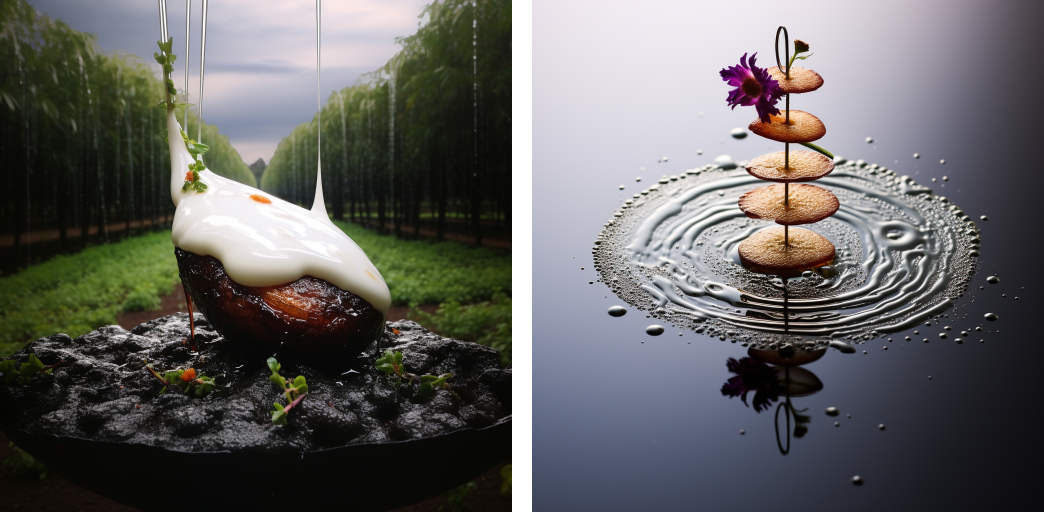 Left: Black squid risotto, burned onion, labaneh subsurface render
Right: Fine dining plating photo, michelin star plated dish, extra, photo of plated red, paprica, mayoran, cinnamon, vanilla, musk, grape, buckwheat, pink salt, sharp, bright, brutal, top view, studio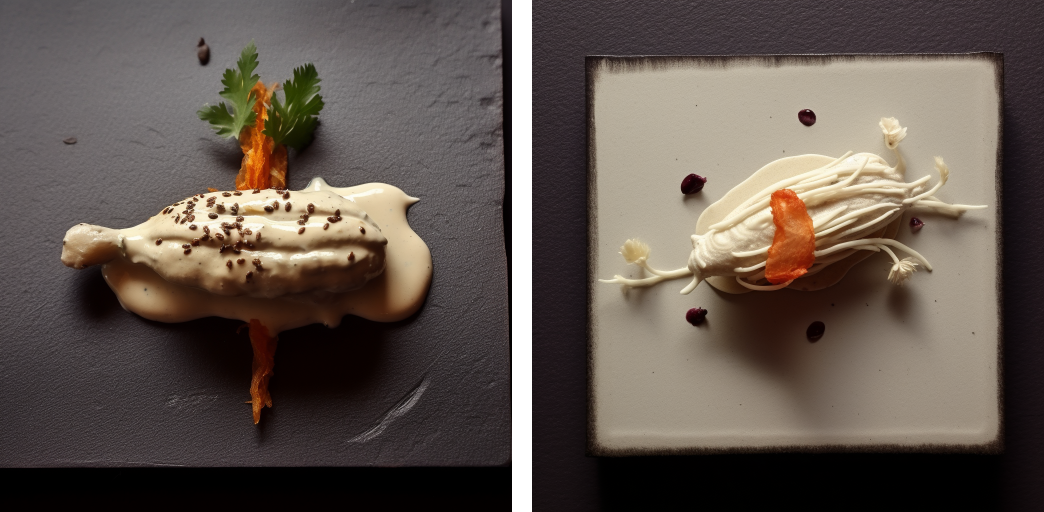 Left: Fine dining plating photo, michelin star plated dish, sharp, edgy, bold, photo of frozen cabbage with tahini and red paprika, top view, studio, clean, pedant, sterile, cleancore, medical core
Right: Fine dining plating photo, michelin star plated dish, sharp, edgy, bold, photo of frozen cabbage with tahini and red paprika, top view, studio, clean, pedant, sterile, cleancore, medical core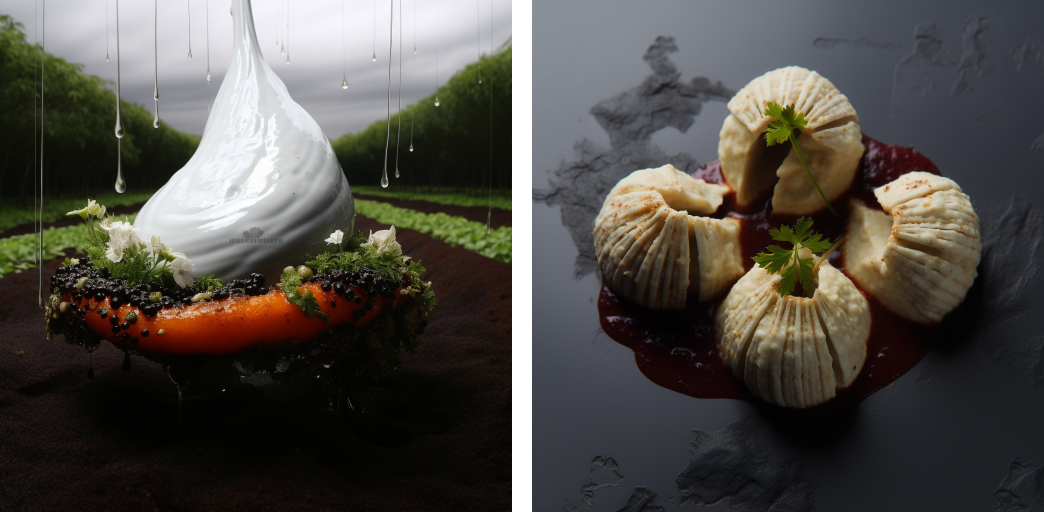 Left: Black squid risotto, oxtail, labaneh subsurface render
Right: Fine dining plating photo, michelin star plated dish, minimalistic brutal composition, photo of mashed potatos with beetrot and paprika, brutal, top view, studio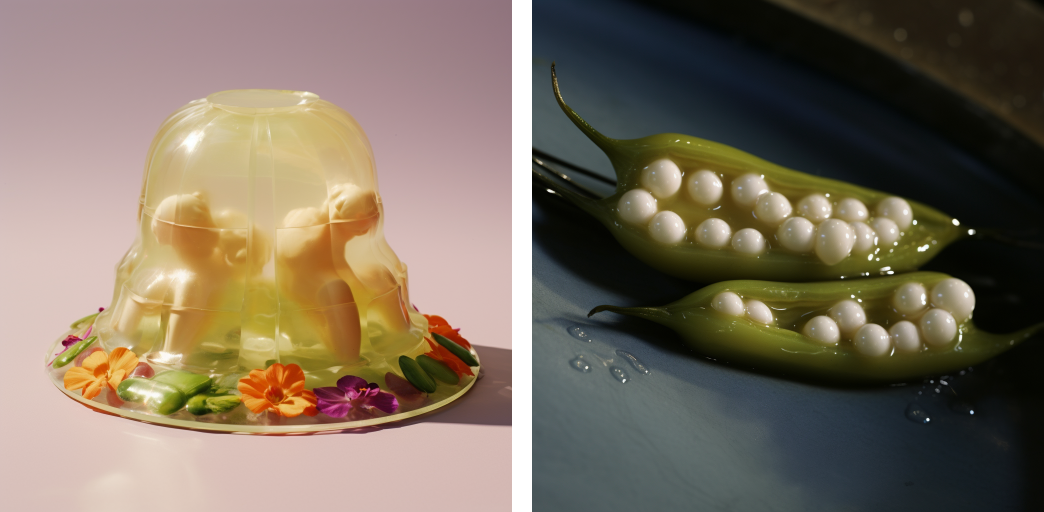 Left: Food campaign, jellied mantis salad, super sterile, centered composition, studio light, white background
Right: Studio footage, sterile lighting, five lime-green beans in transparenet splashed oily broth, black pepper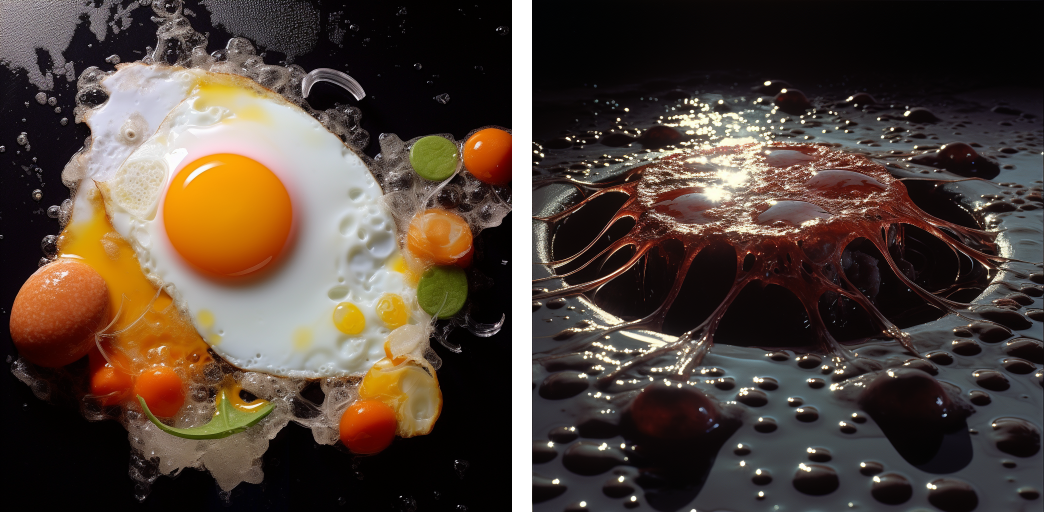 Left: Underwater shoot of a of fried egg by Minji Kim, side view composition, by Versace campaign, blinding light, depth of field Underwater shoot of a of fried egg, side view composition, by Versace campaign Depth of field
Right: Zoom in, microscopical higly detailed food campain by Hajime Sorayama, shoot of a shiny fried deep red octopus with lava on a red metallic plate, mysterious, solid, empty, subsurface render